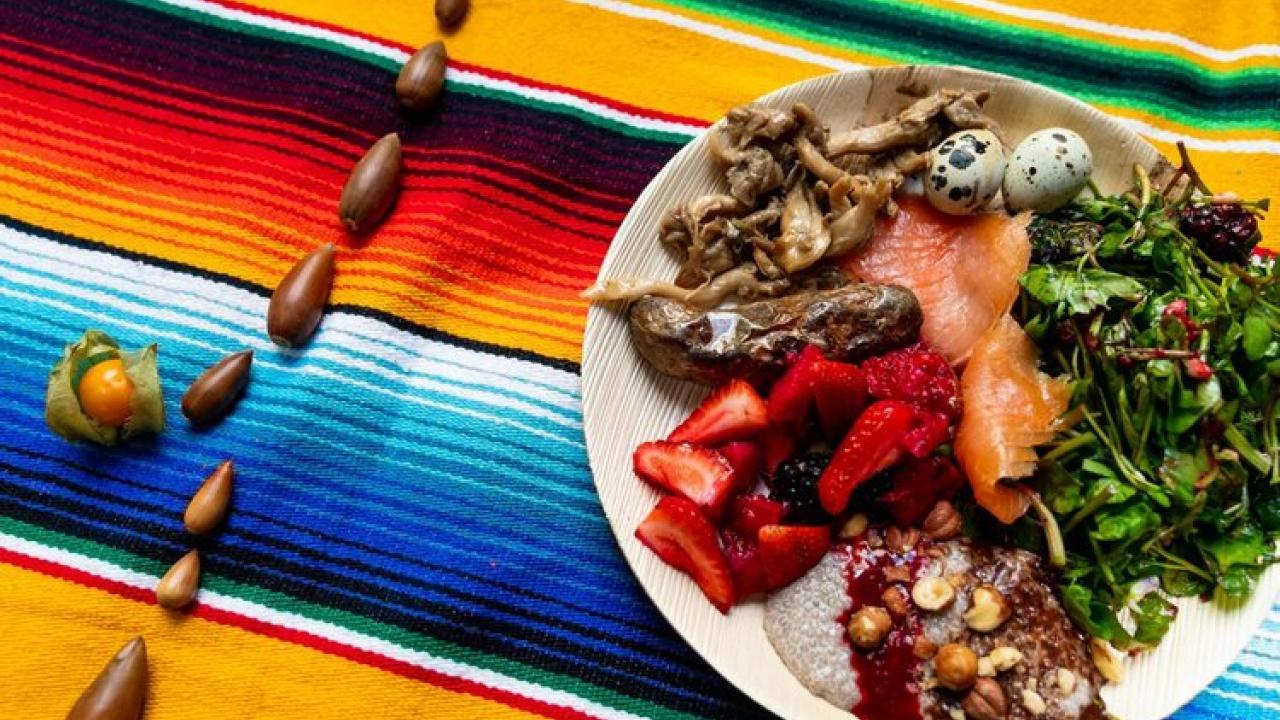 Cafe Ohlone (mak-'amham) co-founders Vincent Medina and Louis Trevino discuss their efforts to strengthen Ohlone culture through food. mak-'amham (mahk-am-haam) means "our food" in the Chochenyo language, the native language of the eastern shore of San Francisco Bay, the area known as "the East Bay." mak-'amham is an Ohlone cultural institution that works to empower the Ohlone community with tradition—it teaches the public, through taste, of the unbroken roots of the Ohlone people.
 
mak-'amham operates in their indigenous homeland; it works to revive and strengthen traditional Ohlone foods for wellness and it operates the world-renown Cafe Ohlone. Vincent and Louis keep their cuisine and culture strong to honor those before them who loved these powerful foods and to provide greater understanding and visibility for the Ohlone community that they are a part of. All Cafe Ohlone food is indigenous to California, specifically to the San Francisco and Monterey Bay Area. All the primary ingredients Café Ohlone prepares are foods that are recognizable and attainable in the traditional Ohlone world and represent their living culture.
Schedule:
6:00-7:00 (PST) Sips and Bites: A Taste of Ohlone Culture
Tasting:
We will be tasting a selection of foods from Cafe Ohlone. Participants may want to purchase them for educational purposes. Curated boxes include:
maarah: fermented gathered Indian lettuces
šetnen: traditional black oak acorn bread
rawwni: California hazelnut flour brownies with handmade Zapotec chocolate and East Bay course salt
tawwa 'at mamakwa: stinging nettle, rosehip and rose petal tea
More information on purchasing to follow.
Speakers:
Vincent Medina is a Chochenyo Ohlone indigenous rights, language, and food activist. Medina has been on the Board of Directors of Advocates for Indigenous California Language Survival since 2012. He is also one of a few rotating hosts of Bay Native Circle, a weekly indigenous radio program and podcast which airs on KPFA (94.1 FM). He is Capitán, cultural leader, of 'Itmay Cultural Association, a group of dedicated Verona Band culture bearers working to keep their identity strong.
Louis Trevino is a Rumsen Ohlone community member active in the cultural revitalization efforts of his people. He is focused primarily on the revitalization of the Rumsen language and traditional Ohlone foods. With his partner, Vincent Medina, Louis co-founded mak-'amham, which works to promote traditional Ohlone foods within their families, as well as to educate the public about Ohlone cuisine and identity.
Moderator Dr. Jessica Bissett Perea is a UC Davis Assistant Professor of Native American Studies and a Dena'ina [Alaska Native] scholar whose work intersects the larger fields of Native American & Indigenous Studies (NAIS) and Music & Sound Studies. She specializes in Critical Indigenous Studies approaches to performance, media, and improvisation studies; arts and activism in North Pacific and Circumpolar Arctic communities; and relational studies of Indigenous and Black experiences and creative expressions in the Americas.
Moderator Dr. Maria Marco is UC Davis professor of Food Science and Technology and a microbiologist with expertise in fermented foods, probiotics, and the human microbiome. Dr. Marco's research is investigating the microorganisms and processes responsible for making fermented foods and elucidating how foods and probiotic bacteria impact human health. Dr. Marco is leading international efforts to increase shared knowledge on fermented foods, including recognition of the central roles these foods have in traditional diets.
---
About:
This event is part of the Sips and Bites series, which explores the stories behind foods and drinks with winemakers, brewers, and culinary innovators with tastings and conversations about what inspires them to make their wines, beers, and foods. 
Venue:
This is a virtual event that will be presented via Zoom. In order to access this webinar, you will need a free Zoom account, which you can sign up for here.
Questions?
If you have questions about this event, please email: rmievents@ucdavis.edu.