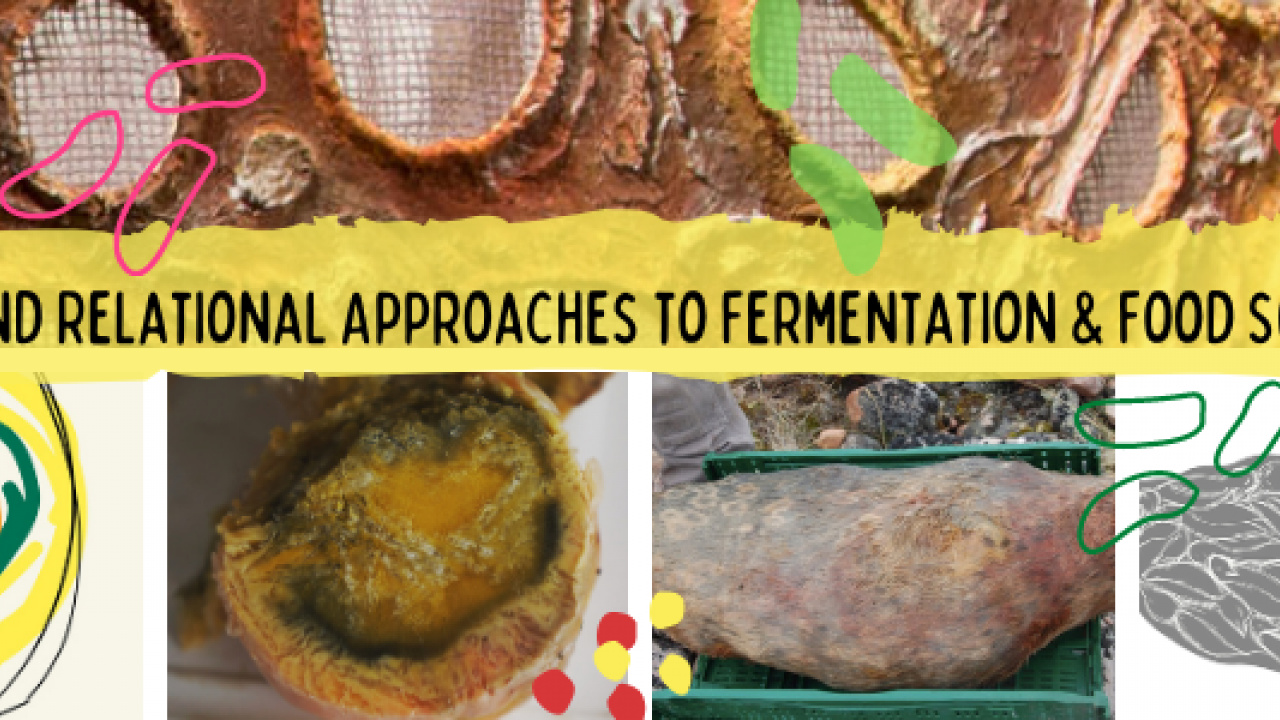 The UC Davis Humanities Institute shares this write-up of our first event in the Radical and Relational Approaches to Fermentation Dialogue Series, from February 2021, written by Maya Weeks. 
The first event in the new DHI transcollege research cluster Radical and Relational Approaches to Fermentation and Food Sovereignty's Radical Fermentation Dialogue Series took place on January 28 and featured Dr. Maria Marco in conversation with Dr. Aviaja Lyberth Hauptmann.
This series aims to facilitate conversation across the fields of food studies, food science, and Indigenous studies in a truly transdisciplinary mode. The dialogues present a chance for cluster members to talk to each other about their work and build a research community open to interested scholars. 
The cluster combines the expertise of Dr. Jessica B. Perea, Dr. Stephanie Maroney, Dr. Aviaja Lyberth Hauptmann, and Dr. Maria Marco. Dr. Perea is a Dena'ina [Alaska Native] musicologist and Assistant Professor of Native American Studies at UC Davis. Dr. Maroney is a feminist science and food studies scholar and the Mellon Public Scholars Program Manager at the UC Davis Humanities Institute. Dr. Hauptmann is an Inuk [Inuit from Greenland] microbiologist, project leader at Greenland Center for Health Research at the University of Greenland, Ilismatusarfik (Visiting Carlsberg Foundation Postdoctoral Fellow in College of Agricultural and Environmental Sciences), and postdoctoral fellow at the Marco Lab at UC Davis. Dr. Marco is Professor of Food Science and Technology at UC Davis who works on fermented foods, probiotics, and the human microbiome. 
During the event, which is recorded here, Dr. Marco first presented her work and then conversed with Dr. Hauptmann. Dr. Marco, a leader in her field, defined fermented foods with a working definition she was instrumental in coming up with collectively ("foods made through desired microbial growth and enzymatic conversions of food components," Marco et al. 2020) and discussed some reasons why people make and consume fermented foods. She also discussed fermentation science and nutrition with attention to the fact that we "[know] that we're really only 1% human" if we consider all the microorganisms we live with, and emphasized that "we trust microorganisms by our making and eating of fermented foods."
In dialogue with Dr. Marco, Dr. Hauptmann asked how the definition of fermented foods might be different if it were drafted with people who are not scientists. Dr. Marco's answer included duration, speaking to fermentation's requirements to "prepar[e] food and paus[e], and wait" and framing it as "food that's made and left." Dr. Hauptmann also asked whether ferments made by nature, such as fish found on the shore and eaten by an Inuk Greenlander (for example), still fall under the International Scientific Association for Probiotics and Prebiotics (ISAPP) definition of fermented foods, to which Dr. Marco answered yes. For the fish found on the shore, Marco explained, though its fermentation process is not controlled, the results are desired. Dr. Marco and Dr. Hauptmann also discussed relationships between fermented foods and agriculture, interrogating the colonial perspective that positions hunter-gathering in the past and agriculture as evolved, noting that "our diets have always had some aspect of fermented foods."
Future seminars will inquire into how traditional knowledge and practices of fermented foods might persist in the future, how Indigenous performance is tied to food sovereignty, and the possibilities offered by fermentation as a method for collaborative knowledge making.
Upcoming events in the Radical Fermentation Dialogue Series: 
Dr. Jessica Bissett Perea in dialogue with Dr. Stephanie Maroney on

February 11

; 

Dr. Stephanie Maroney in dialogue with Dr. Maria Marco on

February 25

; and 

Dr. Aviaja Lyberth Hauptmann in dialogue with Dr. Jessica Bissett Perea on

March 11

. 
Through its Dialogue series, the Radical and Relational Approaches to Fermentation and Food Sovereignty cluster aims to show gaps between fields while leaving room for nuance and common ground. In an interview with me, Dr. Maroney noted that the interests of the cluster members would not be wholly compatible, and would create some friction, and that that is a good thing for the growth of the members' fields and the strength of the cluster's work. "It's in those frictions that we're actually going to have our unique contribution." Dr. Maroney spoke to the roles that, "trusting each other, goodwill, and a desire to work together" play in their relationship. The cluster prioritizes giving one another the benefit of the doubt — a welcome model of scholarship. 

Future activities from the cluster in spring quarter include two events focused on Indigenous food sovereignty and a graduate reading seminar. Furthermore, Dr. Marco and Dr. Perea will teach a course, Radical Storywork: Performing Food Sovereignty through Inuit Fermentation Culture, through the SHAPE program in Fall 2021. The cluster can be found with the hashtag #RadicalFermentation on social media, and is looking at grants to be able to continue a longer-term collaboration.